(to be continued)
Last July 8, H, M and I went to
Seaworld Orlando
and had a wonderful time with Shamu. We arrived from Jax at 10am and wanted to stay until 10pm for their fireworks. Seaworld had a new show called "Shamu Rocks" which was scheduled at 9pm. We were in the stadium at 8:30pm. We just took a walk in the nearby viewing station and after 2 minutes, the stadium was closed. H saw how my jaw dropped and he immediately hugged me and whispered "Dont worry, we'll come back tomorrow night." I said "It's fine, I've seen Shamu many times" (although this one is a new show as they always update their shows so visitors get something new everytime you go to Seaworld. H said "Plastic, basta babalik tayo bukas. I saw your face and I don't want that look." Isn't H adorable? So I smiled at di na nagpaka plastic. H will do anything to please me. Haay..
The next day, together with the A's, we went to
Typhoon Lagoon
, a water theme park by Disney. Since my son adored the waters, this place was heaven sent for him. I cannot believe that I had to be under the sun the whole day, even at 12noon. (Yaikks. Though H said di naman daw ako tinatalaban ng araw, hehehe) M did not want to get out of the surf pool. This place resembled the Shipwreck Island that we had in Panama City although this one is of course, HUGE! The surf/wave pool had a boom sound, like an alarm, which went on whenever they would release giant waves and M would run to his dad whenever he heard that. But still, we can't let him out of the waters even with that scary sound. He would just come back once the giant wave was gone. Anyhoo, di na kami makita sa dilim ngayon, hehehehe..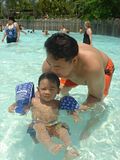 Then at night, at around 730pm, we excused ourselves from the A's and we went back to Seaworld. By 8pm, we were in the stadium even though the show will start at 915pm. Sigurista na kami.
The title "Shamu rocks" is an undestatement. I was really amazed at how they can train such killer whales. The lights and sounds that went with the show were truly amazing. I thank H that we did came back for this show. It was worth it.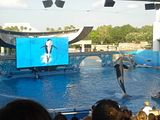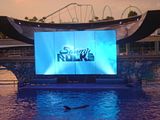 We got to see the fireworks too at 10pm although it did not match the Disney's Magic Kingdom last New Year when we celebrated New Year at Disney. For me, I still love Disney's fireworks right at the famous castle. It always reminds me of my favorite show "The wonderful world of Disney." Hmm..am i revealing my age? THat was decades ago at channel 7. Heheheheh..
We had dinner at Chilis although the A's called us that they ordered chinese for dinner and they are waiting for us at their timeshare. We got home at 1130pm. Its a good thing the time share had a kingsize bed so the three of us could fit in and sleep at once.
The next morning we were supposed to go to Downtown Disney at 10am. For some reason, H wanted to go home already since it will take us about 6 hours to get home. So I kissed my good friend S and waved bye bye. I saw S surprised with that look - Bakit uuwi na kayo?" I explained that H wanted to go home early. Besides, we'll be seeing the A's again next month for J's 1st birthday. I wonder if they will sleep at their house since my IL is still with us. I only have 2 guestrooms available. Maybe, they'll sleep at C's house. Oh well..
That sums up our short but sweet vacation. I was thrilled that I got to spend time with H and M and my good friend S as well. It's nice that S and I have been friends since college days and oh no..its been more than a decade ago.!!!